Sun Guishi, member of the Standing Committee of the Tangshan Municipal Party Committee and Secretary of the Caofeidian District Committee, and his entourage inspected the Zhongwu Green Construction Project
---
---
  On November 11, 2018, Sun Guishi, Member of the Standing Committee of the Tangshan Municipal Committee, Secretary of the Caofeidian District Committee, Wang Qinghe, Director of the Office of the Caofeidian District Committee, and Zheng Zongjian, deputy director of the Management Committee of the Equipment Manufacturing Park, and other leaders visited the site.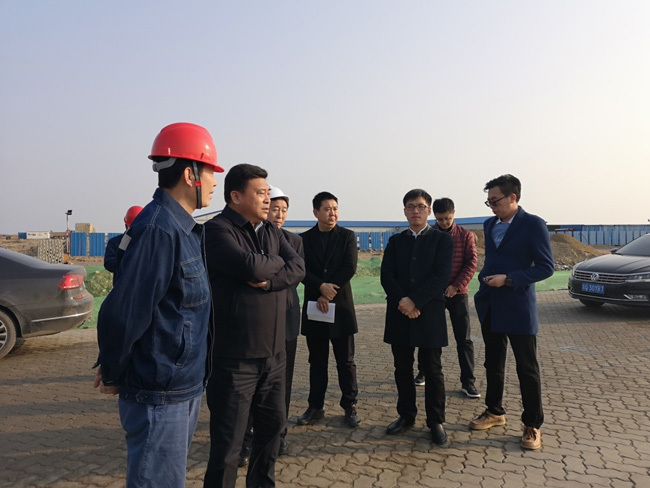 (Chairman Liu Jingfu (first left) reports to Secretary Sun (second left) on the project)
  At the construction site of the project, Liu Jingfu, the chairman of Sinowu Green Construction Project Company, made a detailed report to Secretary Sun Guishi on the progress of the project construction and the unique advantages after the project was completed. After listening to Chairman Liu Jingfu's report, Secretary Sun Guishi highly affirmed the construction progress and future prospects of the project, and deployed the key work in the next phase of the project.
  The Zhongwu Green Building Project is a strong cooperation between the Sino-Chinese Businessmen, Hangxiao Steel Structure, Donghua Iron and Steel, and Xingchen Building Materials. Based on the Hangxiao Steel Structure Steel Structure Residential System, it is supported by core technologies in the industrial chain such as design, manufacturing and construction. Cao Feidian jointly builds a prefabricated steel structure green building industrial base, jointly promotes the development of local steel structure green ecological buildings, promotes the industrialization process of prefabricated buildings in local and Tangshan and even the entire Hebei Province, accelerates the transformation and upgrading of local industries and the supply-side structural reform. It helps to play Cao Feidian's unique resources, geography and policy advantages, and contributes to the realization of the beautiful vision of "green water and green mountains are Jinshan and Yinshan".
---