Caofeidian Strategic Emerging Industry Investment Promotion Conference Held in Beijing
---
---
  On the afternoon of December 14, 2018, Caofeidian Strategic Emerging Industry Investment Promotion Conference was held in the multi-function hall of China Staff Home Hotel. The meeting was organized by Tangshan Caofeidian Promotion Cooperation Development Office. Comrade Yang Hongsheng, deputy head of Caofeidian District People's Government, attended the meeting and delivered a speech. Beijing Economic and Information Technology Bureau and Beijing State-owned Assets Management Committee sent people to attend and congratulate.
  At the investment promotion meeting, Comrade Li Ruzhong, Director of the Investment Promotion Bureau of Caofeidian District, introduced the development and investment environment of Caofeidian District. Caofeidian District is located in the southern part of Tangshan, the core location of the Bohai Rim Economic Circle, the central area of ​​Hebei's coastal economic uplift zone, adjacent to Beijing and Tianjin , With a total area of ​​1943 square kilometers, a resident population of 400,000, a 116-kilometer deep-water shoreline, a deep trough in front of the island with a water depth of 36 meters, and no freezing or siltation all year round. It is the only one along the Bohai Sea that can be constructed without excavation of channels and harbors.30 The natural diamond-grade port of 10,000-ton berth is an important port connecting China to the Pacific Ocean. Caofeidian District has advantages in transportation location, port logistics, infrastructure support, and raw material supply. In accordance with the central plan, my country will strive to build Tangshan and Caofeidian into a window for economic cooperation in Northeast Asia, a new industrial base in the Bohai Rim region, and an important fulcrum in the capital economic circle.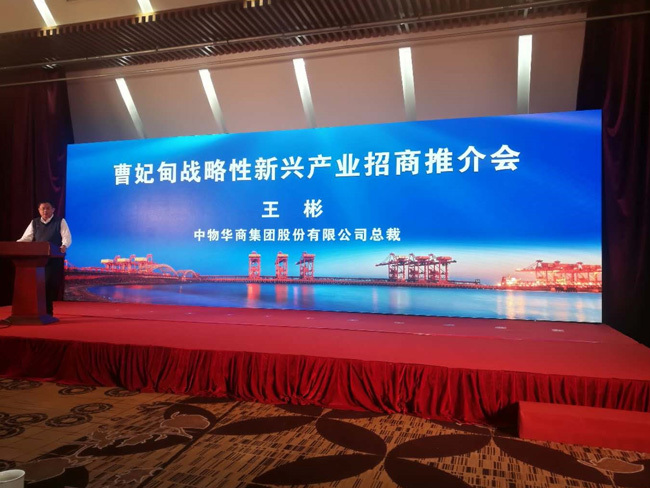 (The picture shows Mr. Wang Bin, President of Sino-Chinese Business Group, speaking on stage)
  Mr. Yao Xin, Vice President of China Enfi Research Institute, and Mr. Wang Bin, President of Sino-Chinese Business Group, respectively, as investment representatives, made investment speeches and looked forward to more investment opportunities. The president of our company, Wang Bin, stated that Sino-Chinese Business Group has been stationed in Caofeidian District for many years, and has truly realized the advantages of Caofeidian's location in the core circle of Beijing-Tianjin-Hebei region, saving the logistics cost of the enterprise; rich port industry resources and preferential financial policies have enabled The operation of the enterprise is assisted; the complex industrial linkage in the zone brings efficient development space to the enterprise; the government is diligent and pragmatic, and the good political and commercial environment makes the enterprise's difficulties resolved in a timely manner. President Wang Bin believes that the future of Sino-Chinese Huashang Group in Caofeidian District is promising and can make a big difference!
---